Dandy Roll
Papermakers have been using dandy rolls for over 150 years to produce watermarks in machine made papers, and make improvements in the sheet. Dandy rolls are used for improving formation, closing up the sheet, smoothing the top side surface, improving felt side quality and printability, and improving drying.
The Johnston Dandy Roll Company has incorporated superior engineering, craftsmanship and materials in our rolls and related products for nearly forty years. We supply custom assemblies which meet or exceed industry standards for quality and design innovation. Rolls, stands, showers and pans are designed and manufactured in our facilities.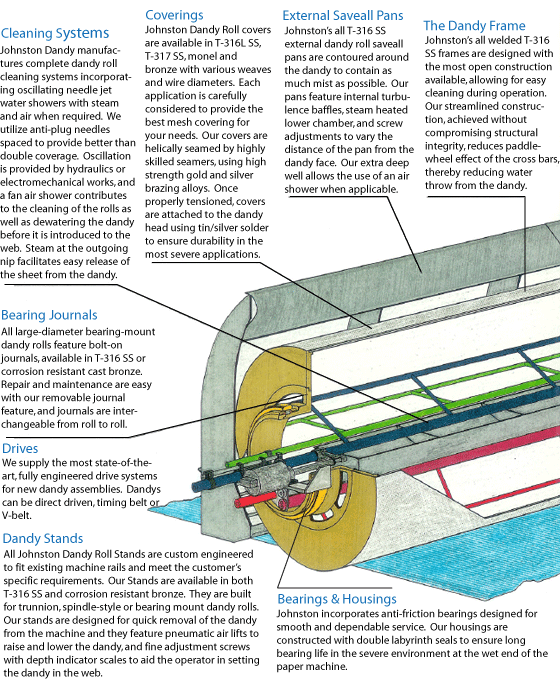 Our systems are often supplied with the drive appropriate to your needs. We manufacture direct drive, timing belt and v-belt drives, as well as non-driven dandy rolls. Our stands are manufactured for bearing mounts, trunnion, and spindle style rolls.
Johnston Dandy offers full service on all dandy rolls manufactured in North America or overseas. We maintain seven plants to meet the papermaker's demanding needs
All Johnston Dandy Rolls are constructed of the finest materials available, to provide an end product which is corrosion resistant and lightweight yet extremely rigid, maintaining concentricity for years of exceptional performance. Our field engineers work with mill personnel from initial machine measurement through the design stages and are on site for set-up and start-up to ensure that all expectations are met.
Occupying over 100,000 square feet of manufacturing space in seven plants located in the United States and Canada, we have a roll capacity of up to 96" diameter with over 400" between centers. State-of-the-art machining, welding and balancing equipment are utilized, providing to quality products in the shortest possible delivery time.
New dandy rolls are backed by our extensive inventory of parts and our always-ready service facilities.